Total of 1 carriers in
Melbourne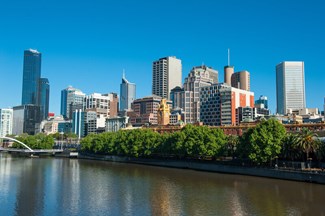 Melbourne, FL Movers
The sunny beachside community of Melbourne, FL is home to miles of pristine coast and a vibrant community. With all that the city offers, it's no wonder that people turn to iMoving when they need to choose the best Melbourne movers for a new life in this coastal haven.
Whether you're moving from across the state or across the country, iMoving can help you find the best movers in Melbourne, FL for your specific needs. We understand that every move is different, which is why iMoving offers a personalized moving experience. When you use iMoving, you'll have access to a network of top-rated Melbourne movers.
How to Choose Local Movers in Melbourne, FL
We make it simple for you to find the best local moving companies in Melbourne, FL with an extensive list of Melbourne moving companies that can help complete a local move.
To find local Melbourne movers who will best suit your needs, we recommend browsing through customer reviews and ratings. This will give you a good idea of what other customers thought of their experience with the company and offer you an idea of the quality of service you can expect so you can choose a mover with confidence.
Choosing the best local movers in Melbourne, FL doesn't have to be a stressful experience. With the help of iMoving, you can find the perfect local moving company for your needs and budget.
How to Choose Long-Distance Movers in Melbourne, FL
When it comes to long-distance moves, it's essential to choose movers that you can trust who also offer the moving services you need to complete the job. At iMoving, we only work with long-distance movers in Melbourne, FL who are licensed, insured, experienced, and highly rated by their customers.
Additionally, we make it easy for you to compare the many services of long-distance movers to quickly and easily find the right mover for your needs.
When you're ready to start searching for long-distance moving companies in Melbourne, FL, use iMoving to get price binding quotes from our thoroughly vetted moving partners. iMoving makes this part of the process easy with full transparency about what's included in each company's quote and guarantees that the price won't change come moving day.
Once you have your quotes, select the best Melbourne, FL movers for your needs and pay for services using the secure iMoving online booking system.
What is the Cost of Movers in Melbourne, FL?
The cost to hire movers in Melbourne, FL will vary depending on the type of move you are completing (local or long-distance) as well as the weight of your belongings and any additional services you require. On average, a local move can cost from a few hundred to a few thousand dollars, and a long-distance move can cost between $2000-$5000+.
To get the best estimate of your upcoming move that can be compared with quotes you receive from our moving partners, use our moving cost calculator. This helpful tool provides an estimate for the cost of your move based on your specific moving needs. You'll be able to input moving details such as the date of your move, the size of the space, the particular items you need moving, and additional services such as packing and unpacking.
Be Prepared for a Melbourne, FL Move
To ensure a successful move, it's imperative that nothing gets forgotten in the chaos. Use iMoving's moving checklist to help you keep track of everything that needs to be done before, during, and after your move. This helpful tool is designed to help you stay organized and on top of your move so you can relax and enjoy the moving process.
Once you've organized everything on your moving to-do list, you'll have time to take in some of the best that Melbourne offers in entertainment and culture, such as the Eau Gallie Arts District, Brevard Zoo, and miles of beaches that stretch through iconic neighborhoods like Cocoa Beach and Cape Canaveral.
With iMoving, you can be sure that nothing gets forgotten in the chaos of your upcoming move. With a number of helpful resources at your disposal, we can help make your Melbourne move a success.