Total of 2 carriers in
Lauderhill
Booming Whales Moving
Lauderhill

Lauderhill, FL

3.80
3

Years in Business

2

Trucks

6

Workers
5 Starr moving and cleaning
Lauderhill

Lauderhill, FL

3.80
6

Years in Business

3

Trucks

10

Workers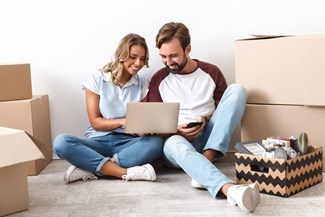 Lauderhill Movers
So, you've decided to move to a new home and want to start getting prepared as soon as possible. What seems like a simple task at first can quickly spiral into a complicated mess, especially if it's your first time moving to a new location. Both veterans and beginners can reduce their stress and make moving less complex by working with Lauderhill, Florida movers on iMoving.
iMoving was specifically designed to aid individuals during the relocation process, helping in a number of ways. On iMoving.com folks can:
Make an inventory of their belongings
Compare quotes from movers
Arrange moving services
Finalize the date of your move
Adjust items in your inventory
Make payments securely
Arrange for commercial moves
Getting started is simple, all you need to do is provide a bit of information. The zip codes of where you currently live and where are moving will be required. From there, enter information about the household size as well as what items will be moved. Once this information has been provided, you'll be connected with commercial, long distance, or local moving companies in Lauderhill.
The movers we recommend are not just typical moving companies – they have been researched thoroughly and put through background checks to make sure they are trustworthy and can be depended on. The professionals we work with are friendly, courteous, and professional at all times. They'll also treat your items with the level of respect and care they deserve.
Even making payments is more secure, as iMoving acts as the middleman to keep transactions safe and protected. Funds for your move will be held onto until the moving company has completed the move and you have verified that all of your belongings are present and accounted for. Once this is done, the moving company is paid and you are free to enjoy your new residence.
iMoving is the ideal way to book your move and arrange for additional services. By the time your moving date rolls around, you'll feel cool, calm, and collected knowing that your movers are capable of handling the task at hand with no issues.
Moving Services in Lauderhill
Moving companies in Lauderhill offer various services, which you can arrange on the iMoving website. Common moving services include:
Local Moving: Are you moving a couple of blocks away from your current home? Maybe you're moving to a town nearby? Either way, a local moving company is likely what you'll need. Local movers are fast and can have you in your new home in as little as a few hours. You will be charged based on how long it takes to load and unload your items, so time is of the essence.
Long Distance Moving: Long-distance moves are a bit more complicated than local moves and movers are required to have the proper licensing and registration to perform them. Long distance moves are priced based on load weight, which is how much your belongings weigh, and mileage.
Storage: Delays and downsizing can lead to the need to store your items for a period of time. Whether you need a space for all or some of your belongings, Lauderhill movers will provide you with the storage you require. Many movers offer storage options, so you can count on your items being safe and protected from the elements.
Business Relocations: Businesses have specialized requirements, especially if you are running an office or have a lot of equipment and machinery that needs to be relocated. When moving these items, it is essential that trained professionals handle them so that they are properly taken care of. There are even some companies on iMoving focused solely on commercial relocations.
Extra Care Handling: There are certain items that need a little – or a lot – of extra care when being packed, shipped, and unloaded. Overweight items, large furniture, pianos, pieces of artwork, sculptures, and other items will need special handling services. Professional Lauderhill movers can wrap, crate, and load items to reduce the likelihood of damage while in transit.
Simple Moving Tips to Avoid Frustration
1. Get your mail forwarded
Your mail provides you with a lot of important information, including bills that can lead to problems if not received. To avoid missing out on any of your mail, don't forget to provide a forwarding address to your mail carrier.
Visit the post office before your move to ensure that your mail arrives at your new home. While there, you call fill out forms to change your address along with any other paperwork that is relevant for you.
2. Arrange services & utilities
Depending on whether you are moving locally or to a different state, you may be required to arrange for utilities to be shut off and close out all of your contracts before moving out of a residence. Look into the utilities available in the area of your new home to figure out what you will need to arrange so that you can arrive to a fully functioning home.
If any of your current utility and service providers are available in the area, you can simply arrange for services to be transferred to your new address. You may still need to sign up for certain utilities depending on where and how far you move.
3. Move during the off-season
While you may not always be able to control when you move, whenever possible you should aim to move during the off-season. The off-season is when you will get the best quotes from Lauderhill moving companies due to how low the demand is for movers. The off-season is typical during the winter and fall, so avoid moving in summer or spring if you can.
You should also try to avoid moving at the beginning of the month, the end of the month, or on the weekend. These are when most moves take place, so prices will be higher if you plan to move on the first Saturday of June compared to moving on a Wednesday in the middle of the month.
4. Downsize
Moving provides you with the opportunity to go through your possessions and downsize. This can be especially ideal for households with more than two bedrooms and plenty of belongings, saving you money on your move while making it easier to pack and unpack.
Whether you pack your items on your own or have professional movers in Lauderhill handle your belongings, you'll save plenty of time by getting rid of things before it comes times to move your possessions. Go through every room and figure out what goes with you to your new home and what doesn't.
The Pride of the Sunshine State: Lauderhill
The city of Lauderhill is nestled within Broward County and is home to a vast number of residents. There is plenty that Lauderhill offers both guests and residents, including beaches, gorgeous weather, and wondrous sights. You will also need to be prepared for traffic.
The Beach Is Nearby
Living in Lauderhill, Florida means that you will always have quick and easy access to a beach. The coast is lined with sand that shines in the bright Florida sunlight, making it a great place for a day of family fun or relaxation in the sun. Build sandcastles, go for a swim, or rent a jet ski and speed around the ocean.
If you want to enjoy the beach without getting your feet wet, look out for any of the numerous boat tours that are available. These may offer food and beverage options, so you can lounge and mingle while you take in the beauty of the ocean.
Beautiful Year-Round Weather
Have you ever been to a place where the sun seems to shine throughout the year and there is no danger of frosts or freeze? If not, Lauderhill can seem like a paradise. The days of being stuck in the house due to cold weather are over, as you'll likely be able to visit the beaches, restaurants, pools, and enjoy other amenities with no blackout dates.
Traffic Can Be a Hassle
There are over an average of 8,266 individuals per each square mile in Lauderhill, so commuting may be a bit more of a hassle than in other cities. It may take some time to get used to driving in Florida, as there are a few differences that you should be aware of. For example, the rush hours in Lauderhill can mean a few minutes makes all the difference in your commute time.
The good news is, you'll likely find it a bit difficult to get lost with how organized the roads are. If you find yourself wondering where you are, simply look for either the highway or the Turnpike to set you on the right path. You should also be prepared to hear a bit more horns honking at you while you get used to the lay of the land.
Explore the Sights
There's also plenty to see and do in the city of Lauderhill, including vising places like:
Lauderhill Performing Arts Center
Ilene Lieberman Botanical Garden
Harbor Tours
Roosevelt Gardens Park
Miccosukee Native American Village
No matter where you decide to move, you can always trust that Lauderhill movers in the iMoving network will get you into your new home or commercial building with the skill and professionalism that only moving experts can provide.