Total of 1 carriers in
Jupiter
Brooks Moving & Hauling
Jupiter

Jupiter, FL

3.83
6

Years in Business

3

Trucks

12

Workers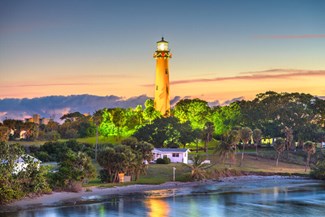 Jupiter, FL Movers
A town on the southern coast of Florida, Jupiter features a stunning lighthouse that offers panoramic views of the entire coastline. As you plan your move to this picturesque small town, allow iMoving to make the relocation process straightforward.
There is no better way to handle a local or long-distance move than by leveraging the services offered by iMoving. Our secure platform makes it so easy for you to find the best-rated movers in Jupiter, FL that provide the services you require.
Whether you are seeking to move locally or long-distance, and require special assistance in moving heavy or valuable objects, iMoving is the place to look for the best movers. You can compare price quotes, understand what services each mover offers, and assess mover availability through a single website.
Only Hire the Best Local Movers in Jupiter, FL
Completing any relocation, even one that is local, requires a lot of effort and coordination. Hiring sub-par movers would only make your life more complex, as you would have to clean up their mess and potentially spend more money in ensuring that all your belongings safely arrive at their destination.
Do not make such a mistake by hiring inexperienced or lackluster movers. Trust the iMoving platform, as we only partner with top-rated local moving companies in Jupiter, FL. We personally assess the movers' licenses, insurance details, reputation, and history.
If you need to connect with movers but you are not sure what company is reliable, we have got your back. Use the iMoving platform to securely search for local movers in Jupiter, FL and provide them with information about your upcoming move to receive binding moving quotes.
How to Easily Find Long-Distance Movers in Jupiter, FL
The process of making a long-distance or cross country Jupiter move is arduous. Not only are you relocating to an entirely different part of the country, but you also have to worry about getting all your possessions to your new city.
With the help of iMoving, you can make that process a little easier, as we can connect you with the best long-distance movers in Jupiter, FL. Finding a mover has never been easier, as we vet all the top-rated Jupiter movers and only partner with those that offer competitive rates, comprehensive moving services, and binding quotes.
You can trust a long-distance moving quote you receive on iMoving, as the movers are not allowed to change their terms, unless you require additional services on moving day. We also make it easy to compare long-distance moving companies in Jupiter, FL based on price, availability, services offered, and location.
Discover the Cost of Hiring Movers in Jupiter, FL
The challenge in completing any local or state-to-state move is to ensure everything goes smoothly, without overpaying. Even if you have the means, you do not want to waste unnecessary money on relocating expenses. That is why you should use the iMoving moving cost calculator as your moving date approaches.
Our cost calculator helps you understand the factors that determine the price of your move. Relocation companies use information such as the distance between your origin and destination zip codes, number of belongings, special requests, and when you are moving to determine your moving rate.
Some companies offer hourly rates, while others provide a flat-fee quote for your entire move. Using the iMoving platform, you can effortlessly compare binding quotes from several top-rated companies before deciding on who to hire.
Moving to Jupiter, FL
There is likely a lot that you must do before you can complete your move to or from Jupiter, Florida. Using iMoving's moving checklist can help you stay on top of those tasks, ensuring that you do not forget a crucial aspect of relocating.
Allow iMoving to make the relocation aspect of this process a little easier as well. You can focus on other tasks, while iMoving does the legwork in helping you secure the services of top-rated movers in the Jupiter area.
Rather than stressing about your move, you can enjoy your first few days in Jupiter, as you explore the charming landscape or sight see at local monuments and museums. Focus your energies on the next chapter in your life in a new city, rather than spending hours arguing with unreliable movers.