Total of 2 carriers in
Palm Coast
Moving America Logistics
Lake City

Lake City, FL

4.20
3

Years in Business

2

Trucks

15

Workers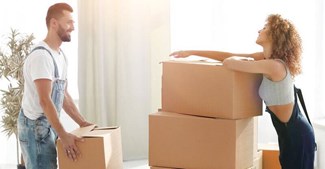 Palm Coast
Ask a thousand different people, and you're likely to hear a thousand different reasons why people do not like thinking about moving. They have to plan several months in advance, pick out their moving date, come up with a budget, pack everything up, and of course, find a moving company if they don't plan to handle the move themselves.
This is a long and stressful process that no one looks forward to with glee. Sure, you're probably excited to get to your new home on the beautiful shores of Palm Coast, Florida, but before you can begin soaking up everything the Sunshine State has to offer you, you have to actually get your move underway. Are there any solutions available to make moving a little easier for everyone?
Enter iMoving. At iMoving, we do everything we can to make the moving process as simple as possible for folks planning moves. To do this, we worked hard to find the best moving companies the country has to offer, background checking them thoroughly to make sure they are among the best that the moving industry has to offer.
This effort paid off in spades, too! Now, anyone planning a move can check out the iMoving network of partner movers to find the best people for their unique move. Our moving company partners are highly trained, have years of experience on the job, and every single company we work with comes highly recommended by customers who have used their moving services in the past.
That's right, when you work with a company in the iMoving network, you are opening up the door to working with movers who have proven experience in the field and will treat your stuff with the ultimate care, doing everything in their power to make your move as simple and stress-free for you as possible.
To that end, our partners also offer plenty of moving services that customers can choose from to make things a little more convenient and easy for them.
Moving Services in Palm Coast, Florida
Want to make your move even easier? You can choose from some of these special services offered by our moving partners to ease up on your workload:
Full Home Packing: Many of our moving partners are able to sort through and pack up all of the contents of your home for you. For some who are short on time, have physical disabilities or just aren't as young as they used to be, this service can be a necessity rather than a nicety. The movers can also help you unpack your stuff when you reach your new home, if you'd like.
Disassembly and Reassembly Services: Sometimes, you can't make a table or piece of furniture fit through a doorway or onto a truck without taking it apart. With these assembly services, you won't have to worry about taking anything apart by yourself.
Loading and Unloading Services: Back problems or a lack of physical strengthcan be a problem with DIY moves, but with loading and unloading services, your movers will load things like appliances, large TVs, and any other heavy items into the moving truck for you. Moving labor should be available to be hired at your destination as well.
Local and Long Distance Moving: You want to make sure you're working with a moving company that is properly licensed to move your stuff for you, no matter how far it's going. Partners in our network are all certified, and they possess the right licenses to move folks from coast to coast, or just right down the street.
Special Handling Services: Moving older items like antiques, art pieces, or aging furniture requires a little bit of special care and attention to detail when they are being removed from the home,loaded into the truck and secured for travel. If you have items that may need gentle care, be sure to mention it to the mover before getting an estimate.
Ease Up Your Palm Coast Move With Expert Moving Tips
At iMoving, our master vision is to provide everyone who needs to move with effective and efficient ways to do so, anything to make the move easier and less stressful on you. To that end, we have compiled some moving tips from the professionals to help you out even more.
Declutter if you can
If possible, you should try to declutter your home and purge some of the things you don't plan on taking you with you during your move. After all, the less stuff you take onto the moving truck with you, the less you'll have to pay, and the more time you can save. Go through your belongings and identify things you don't want to keep. You can even have a yard sale to make some extra money and get rid of the things you don't want.
Have quality moving boxes on hand
You don't want old, tattered boxes that are falling apart to work with during your move. In order to not only protect your items, but also to easily transport them, you should think about investing in quality moving boxes or storage bins that will hold up when they are loaded down with items.
Organize rooms by color
You probably don't want to have to open every single box when you get to your new home and start unpacking to determine what goes where. To avoid this, you can color code moving boxes while you pack, so you know what is in each box when the time comes to unpack later on. For example, the master bedroom could be blue, your kid's room red, and so on.
Palm Coast: Information You Need To Know
Anyone who is planning a move to Palm Coast is probably excited to be able to live in Florida. Living here opens up a whole new world of fun to you and your family. When you get to your new Palm Coast home and get settled in, think about stepping out and getting acquainted with your new town.
Palm Coast is not a huge city, but not a small town, either. With a population of about 87,000 folks, Palm Coast is highly rated as a great place to live, providing excellent public schooling options for local children, a low local crime rate compared to other, bigger Floridian cities, and plenty of activities for everyone to enjoy.
When you're ready to step out on the town and see what you can do to have fun, you're going to be presented with no shortage of activities, from checking out the local nature, to finding a delicious bite to eat from the vast selection of local restaurants and plenty more, you shouldn't ever get bored while living in Palm Coast!
Are you interested in fresh produce, crops, and agriculture in general? If so, you might be interested in checking out the Florida Agricultural Museum, where you can view a homestead, a citrus farm, and an old milking barn.
This area goes all the way back to the early 1930s, and was opened up to the public as a museum in the 1980s in an effort to keep the stories of depression-era Florida agriculture alive. While you're at the museum, you can also check out the farmer's market or even go for a horseback ride!
Want to get your game on with a family member or a friend? Load up and head over to the Hammond Community Center, where you can exercise and have fun at the same time with a nice selection of sports. You can hit the court for a game of basketball, face off on opposite sides of the net for some volleyball, or hit the pool for swimming races. Whatever sounds good to you, you can come here to burn some calories and have fun at the same time.
The Hammond Community Center isn't just great for playing sports and getting your exercise in, either. You could also rent it out for special occasions such as weddings, birthday parties, family events, or just about anything else you can think of for an affordable rental fee.
While Florida is well known for being a great destination for anyone who wants to see the ocean, did you know it is home to plenty of rivers, as well?
If you want to see some of Florida's river systems, you can check out the River to Sea Preserve in Palm Coast. It is made up of over 100 acres and falls right in between the Atlantic Ocean, the Intracoastal Waterway, and the gorgeous and ever-flowing Matanzas River. Here, you can take plenty of photos, go camping next to the river, or have easy access to the ocean through the public beach access.
As you can see, you're to find something to love about your new home in Palm Coast, Florida. It's a beautiful place with a wonderful, tropical climate, offering a certain smaller town charm while having easy access to bigger cities like Jacksonville, and bountiful opportunities for you, your friends, and your whole family to have a great time. Choose an iMoving partner company to get your move done the easy way so you can start enjoying Palm Coast as soon as you can.