Total of 1 carriers in
Sanford
New Way Movers
Des Plaines

Des Plaines, IL

4.40
15

Years in Business

10

Trucks

12

Workers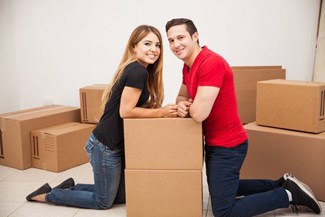 Sanford, FL Movers
Planning on moving to Sanford, FL? If so, you've made the right choice – the city is beautiful and there's plenty of opportunities. However, the moving process could be a source of stress and frustration if you're trying to tackle everything on your own.
At iMoving, we strive to take the stress away from the moving process. The local moving companies in Sanford that iMoving has chosen to partner with are all dedicated to getting your items where they need to be without any additional frustration for you.
Premium moving services from iMoving
iMoving offers services that other companies may not be able to provide. Our goal is to make your move as convenient as possible, so we work with movers in Sanford that can provide all of the services you may need during your move. These services include special handling for items and even transportation services for your vehicle.
Working with any Sanford moving company in our network is safe because of our robust vetting process. We only partner with the most qualified and professional companies that have at least 2 years of experience and good recommendations. iMoving checks with past customers to rate their satisfaction and verify the licenses and insurance coverage to make sure they have all the qualifications required to complete your move successfully.
We streamline payments as well. Paying movers can sometimes be problematic, especially when you discover something damaged or missing after you've paid. Book through iMoving and we'll handle payments, keeping them secure until you're completely satisfied with your move. This keeps you from facing difficulties when it comes to settling disputes.
Moving Services in Sanford, FL
Managed Storage: The storage units available through moving companies in Sanford we work with are controlled, inhibiting pests and keeping the temperature in the ideal range for the safety and longevity of your items.
Complete Packing: Complete packing services include packing your items as well as unpacking them once you arrive in your new home. This service is invaluable to residents that don't have the time or mobility to take on the task of packing on their own.
Moving Locally & Long Distance: Our Sanford movers are qualified to perform local moves as well as long-distance moves, getting you and your items to their destination safely.
Commercial Moves: Commercial businesses have different requirements, but you'll find several of our Sanford moving partners are skilled and capable of handling the task without problems or delays that could hinder your productivity.
Special Handling: If you have items that are fragile or special in any way, movers can provide special handling services to ensure the item's safe delivery to your new home or business.
4 Useful Moving Tips
1. Clear clutter from the home
Over the years, it's easy to accumulate what others would call 'junk'. If you find yourself packing away items that you haven't even looked at in several years, it may be time to declutter before you continue to pack things you don't need. Go through the home and look for objects that are no longer functioning or being used and get rid of them – you'd be surprised at how much space you save and how much easier packing becomes.
2. Pack rooms together
It's much easier to stay organized and unpack your items when you've labelled them correctly and keep items from the same room together. Unless you plan on completely changing the location of everything, having rooms packed in the same boxes make it much easier to get your new home situated. Instead of looking in several boxes for bathroom supplies or kitchen utensils, you can look in one to find everything you need.
3. Pack an overnight bag
Packing an overnight bag can seem trivial when you're going to be moving into your new home, but you'd be surprised at how much they come in handy. If there are any delays in your move, such as having to stop and rest for a few hours, you have toiletries and other essentials at the ready instead of having them packed in a moving truck. Pack any medications you may need along with water, snacks, extra clothing, and any other necessities.
4. Prepare to clean
It's a good idea to have the cleaning supplies in a clearly labeled box to make them easier to find when you're ready to start putting things away in your new home. There can be a surprising amount of dust and grime that accumulates in a house over time when there are no occupants. The first thing many homeowners purchase are cleaning tools and supplies for the home, such as a broom or bleach.
Things to Know About Moving to Sanford, FL
One of the first things new Florida residents want to know is where the closest beach is. Though Sanford is located right by Lake Monroe and Lake Jesup, the real beaches are just a short drive away. The famous Daytona Beach and the gorgeous Canaveral National Seashore are both about 30 miles from Sanford.
There is no shortage of things to do and places to explore when you live in Sanford. You'll be close to some of the world's most famous theme parks, such as Disney World and Universal Studios. What's better is that the parks are expanding, so you can get an entirely new experience each time you visit. Florida residents get discounts on park passes and exclusive offers, so be sure to take advantage of them.
In addition to the famous aforementioned theme parks, you can visit the myriad of other exciting places for unique Florida experiences, such as touching a live alligator or going on an airboat ride. You can also visit the springs and get a real glimpse at the nature around you while exploring the various waterways in the peninsula.
If you're searching for fun on the town, you'll be happy that Sanford is just a bit north of the city of Orlando, where there is enough nightlife to please anyone. There are plenty of other fun things in the city as well, such as museums and theaters where you can view Broadway plays and meet famous actors. You might even see a few familiar faces while taking a stroll downtown or visiting one of those famous theme parks.
Sanford, FL, is a city of unexpected beauty and fun. It's filled with sunshine and there are plenty of parks to spend an afternoon at. It's peaceful, relaxing, and makes a great home.